Kitchen & Paint Booth Suppression Systems
As your business is unique, you need fire safety solutions built for you. Luckily, we're a top provider for pre-engineered wet & dry chemical fire suppression systems. From the system design process to installations and inspections, our licensed fire safety technicians can handle it all.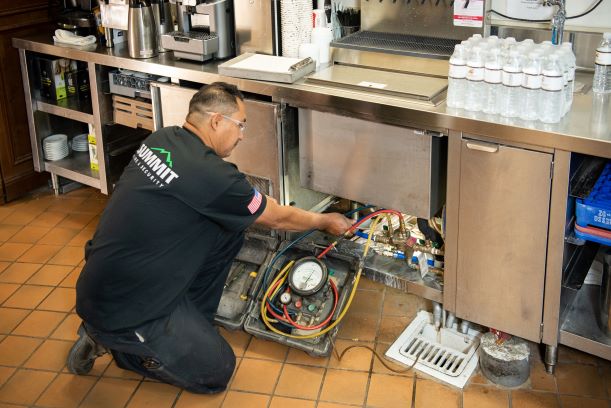 Kitchen & Paint Booth Suppression Systems Services
Installation
Inspection & Testing
Service & Maintenance
A Variety of Kitchen & Paint Booth Suppression Systems
Kitchen Hood Suppression: Many kitchen appliances can lead to a devastating fire. Luckily, our wet chemical suppression systems are here to tackle one of the most common problems—kitchen grease fires. Also, these products are made to protect cooking appliances, ventilation areas, and plenum.

Paint Booth Suppression Systems: These innovative systems use dry chemicals to offer protection for paint booth ducts. These also provide protection for a plenum, including both enclosed and open-faced work areas.

Vehicle Systems: Need to protect a valuable commercial vehicle? Summit Fire & Security offers both wet and dry chemical vehicle systems to protect a vehicle's engine, turbo, and hydraulics. This service also includes fire detection and system monitoring.
Installing the System
Summit Fire & Security is fortunate to have some of the leading kitchen hood suppression specialists in the industry.
From the planning process to installing the system, we offer full-service solutions that tackle all facets of the project. We can even help you obtain the necessary permits.

Once the system is installed, our work isn't finished until we provide a final test and receive a sign-off from the local authority.

Since we frequently partner with our local AHJ's (Authority Having Jurisdiction / Code Inspectors), we can ensure the installation and sign-off process are seamless and stress-free.
Testing & Inspection
According to NFPA 17/17A and manufacturer's requirements, fire suppression systems must be inspected at least twice a year.

Our team offers professional inspections for any type of kitchen hood fire suppression product, including any paint booth or vehicle system.

Afraid you'll miss an inspection? Summit Fire & Security keeps tabs on when you'll need inspections, so we'll always remind you when your next service is due.

To help your business succeed, we also offer professional training on how to properly use and maintain your system. This knowledge can be vital in an emergency situation.
Service, Maintenance & More
Since we offer 24/7 emergency service and maintenance, we always have your back. No matter when you contact us, you'll have our immediate attention.
It's essential to periodically maintain wet & dry chemical systems. As fuse links, chemicals, and cartridges must be replaced according to manufacturer's specifications, these maintenance services are vital.

As system requirements shift, our team always stays updated on how to approach these important changes. Our factory-trained technicians are constantly educated on the latest system requirements, and we even have a training department that continually educates our team.
Local
City, State or Zip Code