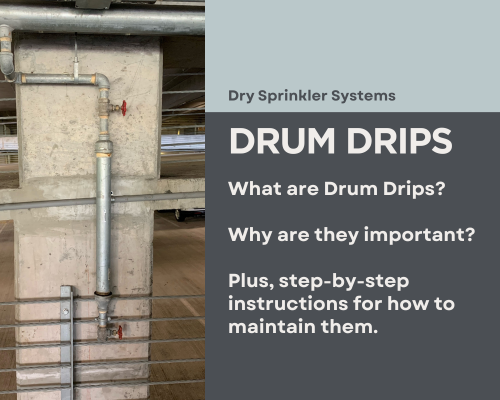 Fire safety is a critical aspect of any building's infrastructure, and one of the key components in preventing the spread of fire is a well-maintained sprinkler system.
In cold-weather locations where freezing temperatures are a concern, dry sprinkler systems are commonly used. These systems are designed to prevent water from freezing in the pipes by using pressurized air or nitrogen to keep the water out until a fire triggers the system. Think of it as an empty zip lock bag that is filled with air.
In general, dry sprinkler systems are angled down to direct water toward a drain, unlike wet sprinkler systems that can be level. Because of this, nearly every low point in the system will need an auxiliary drain or a drum drip to collect water and keep it functioning properly.
In this blog, we'll delve into what drum drips are, why they are important, and how to routinely check them to ensure the effectiveness of your dry sprinkler system.
What are drum drips?
Drum drips are also known as auxiliary drains, drip legs, and condensate drains. They are located at low elevation points in a dry sprinkler system and are designed to collect water that forms from condensation. They are a type of auxiliary drain that is required for areas that hold over 5 gallons of water, which makes them a small, but important component that keeps your dry sprinkler system functioning smoothly—as long they are properly maintained and drained regularly.
In short, drum drips are usually simple mechanisms that include a wide section in the pipe infrastructure called a nipple that has a valve on the top and a valve on the bottom to control water flow. During normal operations, the valve on top remains open to allow for water to collect in the nipple. During maintenance, the top valve is closed and then the bottom valve is opened to drain the collected water inside.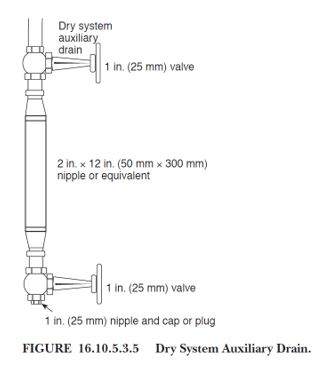 Image credit: NFPA 13
Why are they important?
Even in advanced dry sprinkler systems, problems can arise when condensation forms inside the pipes. Collected water that is not properly drained can cause damage and corrosion. In cold-weather conditions, it may also freeze and cause the pipes to burst. The joints where water collects are generally considered the weakest, and it only takes a bottle cap full of water to break a valve. It's worth your time and effort to routinely check drum drips to prevent costly and time-consuming damage from happening.
When should you plan for maintenance?
Because moisture develops in the system from condensation, you will need to inspect your dry sprinkler system more frequently in the cold-weather months—potentially up to once per day.
Each system is different, and it's best to check with a fire protection professional on what is the most appropriate schedule for you.
How do you maintain your drum drips?
Below you will find an easy step-by-step guide on how to drain your drum drips.
Close the upper valve.
Place a bucket underneath the lower valve to catch water.
Open the lower valve to release the water into the bucket.
Allow the water to drain completely.
Close the lower valve.
Open the upper valve—after ensuring the lower valve is closed.
Please note, it is very important to never have both valves open at the same time. Doing so would release air pressure from the system and trip the valve to activate.
Maintaining a dry sprinkler system is crucial to ensuring the safety of occupants and protecting property in the event of a fire. By understanding the importance of drum drips, you're taking a proactive step toward preventing corrosion, maintaining functionality, and enhancing the efficiency of your fire suppression system.