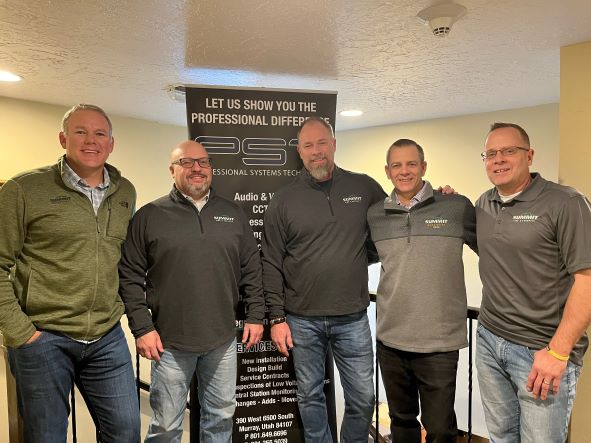 Summit Fire & Security LLC, a subsidiary of SFP Holding, Inc. (Summit Companies), announced the acquisition of Professional Systems Technology, Inc., effective February 14, 2023.
Professional Systems Technology (PST) has been relied upon for the past 18 years to maintain the low voltage systems needs of all types of facilities within Utah and the intermountain areas including California and Nevada, as well as worldwide for the Church of Jesus Christ Of Latter Day Saints. Their team of experts designs, installs, and services a variety of low voltage systems, including fire alarm, life safety systems, mass notification, access control, security, and AV systems.
As PST joins the Salt Lake City team, their expertise with these systems will complement the full suite of fire protection and security capabilities currently available through Summit Fire & Security. PST helps businesses to integrate multiple electronic systems to function as one, which allows the business to be more productive and efficient. Customers can expect the same excellent service, along with a broader range of expertise from the team they trust.
"David, Greg, and Chris have done an outstanding job of building a brand that is well respected in the electronics space, and their team certainly works as a family with a ton of energy. We are very excited by this partnership as it rounds out our full line of services in the rapidly growing Salt Lake market," stated Nic Brown, President, Summit Fire & Security.
"As we join Summit Fire & Security, PST now has the capability to expand and grow our product offerings to provide our customers with complete end-to-end fire protection services. It is exciting to get a glimpse into the future and have the backing from a national company like Summit Fire & Security. I am excited to see where we can go and what we can do in the future," stated David Lassig, President, PST.
With continued expansion across the country, Summit Fire & Security takes pride in offering superior service to local and regional customers. Visit www.SummitFireSecurity.com to learn more about other locations and their suite of fire protection, security, and life safety solutions.