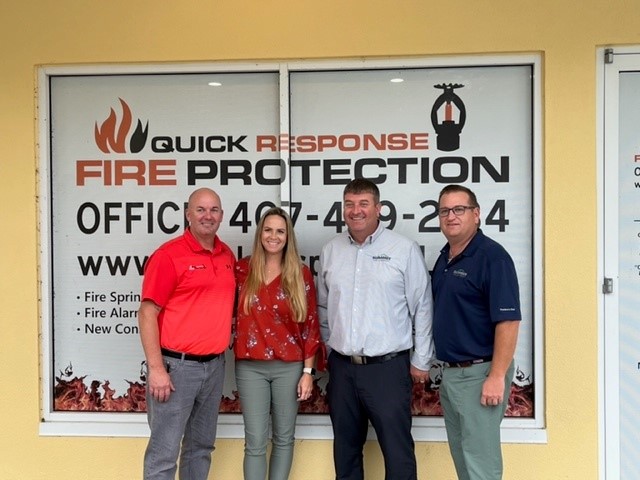 Summit Fire & Security LLC, a subsidiary of SFP Holding, Inc. (Summit Companies), announced the acquisition of Quick Response Fire Protection, effective September 8, 2022.  
Quick Response Fire Protection is a family-owned business based in Florida. Their locations in Groveland, Clearwater and Melbourne have demonstrated strong expertise in fire sprinklers, fire detection & alarm, fire extinguishers, pre-engineered kitchen suppression and special hazard systems. With a solid reputation for providing superior products and services along with outstanding customer service, their strengths and capabilities are well-aligned with Summit Fire & Security.
"Quick Response Fire Protection was built on hard work, customer service and a culture like no other by putting our employees and families first. Partnering with Summit Fire & Security will give us the opportunity to continue our growth trajectory and provide a much larger platform to service our customers nationwide. Additionally, our employees will benefit from the opportunity to grow as leaders in the fire protection industry. We look forward to what the future holds and are proud to be partnered with such a great team at Summit Fire & Security," stated Marty Brasher, owner of Quick Response Fire Protection.
"Marty and Tammy have done an absolutely amazing job of building Quick Response Fire Protection into a central Florida powerhouse in a very short period of time. This level of success doesn't come without an incredible team, dedication to the industry, and a work ethic second to none. They bring a tremendous amount of experience, commitment to quality work, and a passion that you don't always see in this industry. Now, as a part of Summit Fire & Security, we can't wait to expand on all the great things they have built here," stated Nic Brown, President of Summit Fire & Security.
Recent acquisitions, including United Fire Protection, have allowed Summit Fire & Security's footprint to expand into 13 branch locations throughout Florida, with specific focus most recently in the central Florida region. This growth is significant and has allowed Summit Fire & Security to become the leading comprehensive FLS provider in Orlando and central Florida.
With 63 locations across the country, Summit Fire & Security continues to provide superior service to local and regional customers. Visit www.SummitFireSecurity.com to learn more about other locations and their suite of fire protection, security, and life safety solutions.