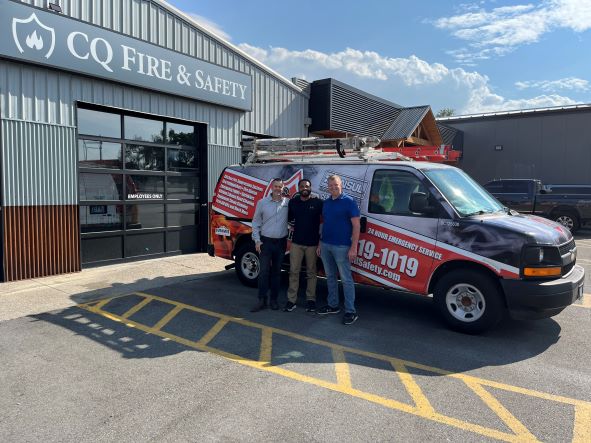 CQ Fire & Safety's Montana and Idaho locations will support Summit Fire & Security's continued expansion
SFP Holding, Inc. (Summit Companies) announced that effective August 2, 2022, Summit Fire & Security LLC, a subsidiary of SFP Holding, has completed the purchase of certain assets of Cleaner Q, Inc. dba CQ Fire & Safety.
CQ Fire & Safety has been led by President Tracy Brown and Vice President Jordan VanDelinder and specializes in fire protection and life safety services, including fire suppression systems, fire extinguishers, emergency & exit lights, first aid kits and fire sprinkler systems. The company had grown to over 50 employees serving clients across nine states. Summit Fire & Security has acquired their locations in Billings, MT; Missoula, MT; and Boise, ID that serve clients across Montana, Idaho, North Dakota, South Dakota, Texas, Utah, Washington and Wyoming.
"Being able to provide fire protection across nine states with a team of more than 50 employees has been a tremendous honor itself. Now, being able to provide service on a national level is unfathomable! My team and I are very excited for this transition, and I can assure you that we will remain hyper-focused on that special Montanan personal touch. With the support of Summit Fire & Security behind us to provide top shelf service, the sky is the limit," Tracy Brown stated.
"This transition was well thought out for the benefit of our customers and employees. All my life I have aligned myself with like-minded people who focus on doing the job right with strong integrity. The most important thing to Tracy and me was to make sure our people were going to be taken care of. We built this company together, but without our employees, this wouldn't have been possible. I'm thrilled for the future of our employees with Summit Fire & Security," stated Jordan VanDelinder.
CQ Fire & Safety began in Montana in 2014 as a hood cleaning service focused on commercial kitchen hoods. In the eight years since then, they've expanded their services to include fire suppression services, serving high-profile clients that include Intel, Phillips 66, Yellowstone National Park, numerous mining companies and many others.
"We aren't acquiring companies and adding to our team of experts just to grow; we care deeply about finding and working with companies and professionals who are just as committed as we are to quality service and true partnerships with our customers and communities," stated Nic Brown, President of Summit Fire & Security.
Visit www.SummitFireSecurity.com to learn more about other locations and their suite of fire protection, security and life safety solutions.