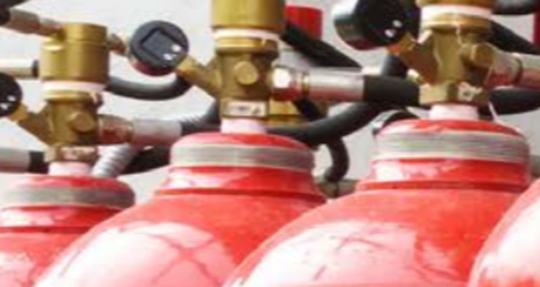 The main goal of every fire suppression system is to protect both lives and property. However, there are some issues that can affect a system's ability to function properly.
Here are some of the common problems we've seen in our fire suppression systems inspections. Let's look at what you should know and what to look for. Like Benjamin Franklin said, "an ounce of prevention is worth a pound of cure." Let's jump right in!
Failing Water Supply
Maintaining the right amount of water pressure in your suppression system is vital to its proper function. To be frank, water pressure is 100% vital to how the system functions and the intention of its original design. The right pressure must be delivered at all times – not just so that you can get the appropriate amount of water spread across the sprinkler head space; but also, because fires can happen at any time. So, your water pressure needs to be consistent and constant.
The next time you have a fire safety professional in your place of business, make sure they run a risk-based analysis of your system and find out where your water comes from. Having that understanding aides in verifying what kind of equipment you may need so this doesn't become a problem. That's why there are standards in NFPA to make sure those systems get tested and you're protected.
Faulty Pumps
This is usually a problem we'll encounter at larger, industrial facilities. On average, when you're talking about smaller facilities – one system can get water from where it comes from to where it needs to go pretty easily. In bigger systems, it's not as straightforward. Sometimes, the pumps don't provide enough water to the connected systems, meaning one or both don't provide enough water to adequately fight fires.
Make sure that whatever your system might be, it is designed around the adjoining systems. Both systems should meet or exceed the demand for higher water pressure with the right size pump (or multiple pumps) to make sure you've got enough water. And finally, make sure you don't have leaks. Piping isn't always perfect and getting out ahead of things by selecting the right nozzle diameters and pipe fittings that go with them can be vital.
CO2 Doesn't Reach the Level of Concentration Needed to Fight a Fire
To fight fires effectively, suppression systems and agent-based systems are designed and calculated in order to put out the fire within a protected space and or area. To do this, CO2 will build up in tight quarters. But those places, just like many mechanical or electrical devices, can wear down over time or use.
During your next system inspection, make sure you understand the different enclosures of your system. This is important because they may all have different discharge levels depending on the space(s) they're designed to protect. Make sure the results of the tests and the information/levels of the agent are documented accordingly.
At the end of the day, these issues are hard to notice to the untrained eye. But you can avoid them by being proactive. You can do that by:
Scheduling regular, ongoing maintenance.
Asking professionals for tips and doing your own 10-minute walk through every month or so.
Just a few simple steps or that "Ounce of Prevention" will allow you to get out ahead of any potential issues that could lead to dysfunctional operations in the future.
Whether you're looking for installation, inspection, testing, maintenance, or repair, let our experts be your one-stop for all your fire protection and security needs. Contact Summit Fire & Security today to set up an appointment.