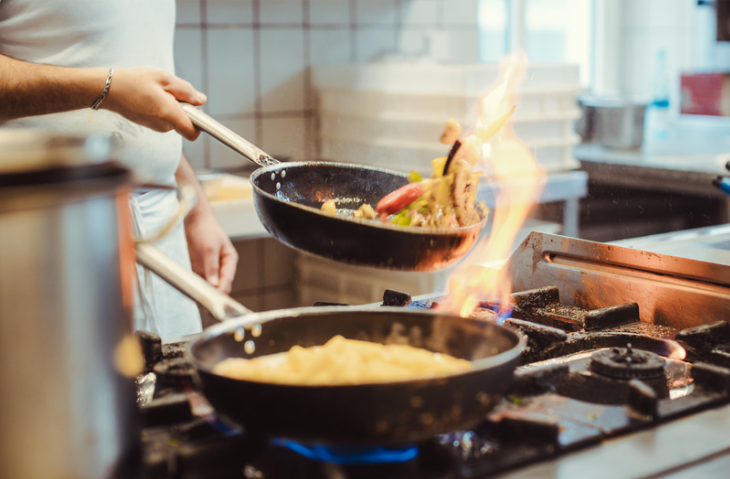 "What are you supposed to do if a fire breaks out in the kitchen?"
Ask your staff to answer that question. Their answers could affect the outcome of a fire inspection, an insurance claim, and possibly a life-or-death situation. In other words, their answers affect the very existence of your business.
Every restaurant owner has a responsibility to protect employees, patrons, and neighbors by preparing their facility for a fire. In an industry with intrinsically high turnover, regular training for both fire prevention and suppression is vital to provide every employee with the knowledge needed to ensure the safety of the facility. As far as simplicity goes, the fire suppression system pull station is the single best tool for effective fire safety training in commercial kitchens.
The message is simple: if a fire breaks out under the hood, pull the fire system pull station. That small box on the kitchen wall, red or metallic in color, with a handle and sign saying "PULL," has the power to do more than people realize. Staff properly trained in its use will automatically head to safety and have the power to call the fire department, alert building occupants of the fire, and likely suppress the cooking fire before it can grow and spread.
How a Fire Suppression System Pull Station Works
As most are aware, pulling the pull station starts delivery of a pressurized spray of fire-suppressing chemical to the appliances, hood, and exhaust duct. However, the additional features of the fire system are what make activating it so important to extinguishing a cooking fire.
While the chemical is being released, the system cuts gas and electricity to the appliances beneath the hood. This is vital to suppressing the fire and ensuring it does not grow or reignite after being extinguished. Additionally, through fire alarm and electrical connections, pulling the fire system pull station has the power to warn building occupants of the presence of a fire and can automatically notify the fire department as well.
Location of a Fire Suppression Pull Station
One of the greatest benefits of training staff to use the pull station is its location. The National Fire Protection Association requires pull stations to be located 10 to 20 feet from the hood along a path of egress. This means that any staff member headed toward a properly located pull station is away from the fire and ready to leave the building.
Commercial kitchen fire safety is a complex topic that encompasses everything from facility cleanliness to cooking appliance location, and high turnover can make effective training a challenge. Focusing employee safety training on a simple, easy-to-remember message can be vital to ensuring the fire safety of your business. The fire system pull station is a readily available tool to help send that message.
Please contact Summit Fire & Security if you have any additional questions about Commercial kitchen fire safety or if you are in need of an inspection or maintenance.
•••
This article was originally featured in Chef Magazine by Alex Garrote, Manager of Customer Engagement and Success at Summit Fire & Security.