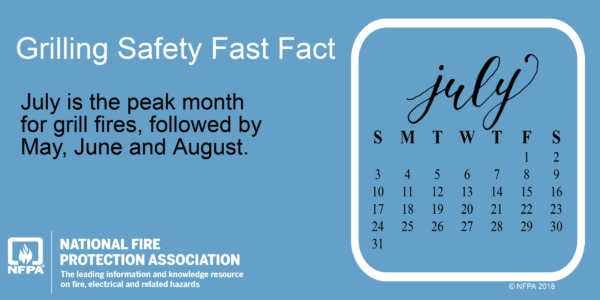 Nothing says summer like being outdoors or enjoying a fun family vacation. Some of the best memories are made around bonfires, grilling delicious food, and admiring bright fireworks. As you're enjoying these wonderful pastimes or summer vacation, one of the last things you're probably thinking about is fire safety and home security. But before you head on vacation or enjoy the great outdoors, remember these summer fire safety and home security tips to keep your assets protected.
Home Security
Heading out for a day outing or long family vacation? In the craziness of packing for a trip, don't forget to take extra measures to ensure your assets are secure while you're gone.
Install a home security system
According to Houzz, 1 in 5 homeowners installed home security systems during their home renovations in 2020. If you're tackling other home renovations, it's perfect timing to add or upgrade your house's security system. If you simply plan to be away more often or traveling for work, a home security system is a great way to provide some peace of mind.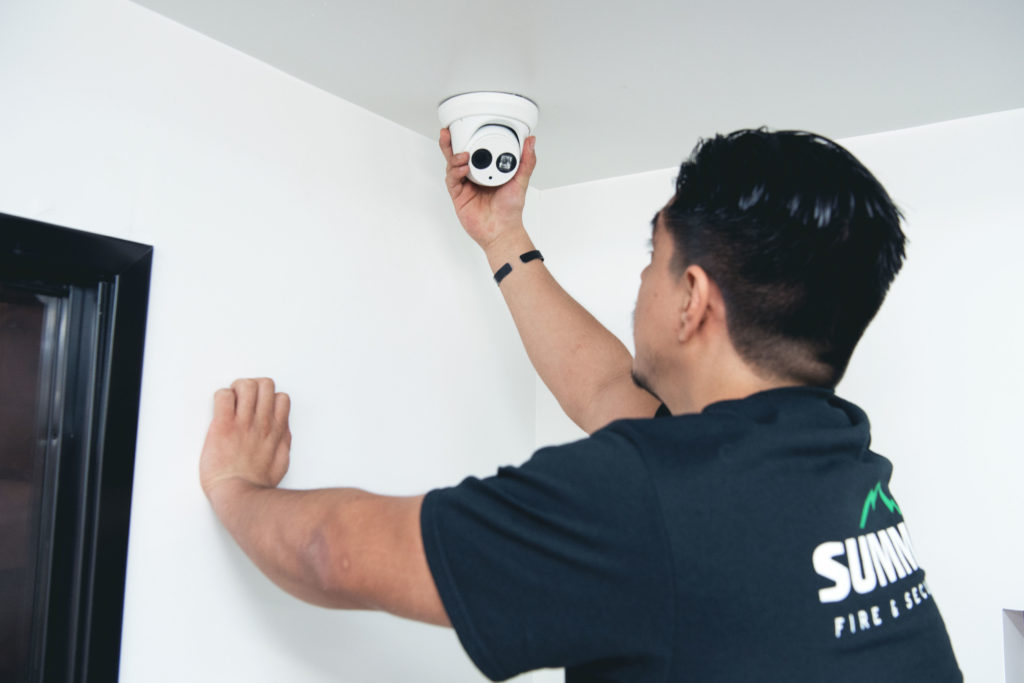 Close your windows and lock your doors
It may be chaotic trying to get everyone out the door to leave, but don't forget to lock up. Especially for longer leaves, consider removing spare keys from under doormats or other spots too.
Hold your mail and newspaper deliveries so it doesn't pile up. If you're expecting a package, ask a neighbor to pick it up off your doorstep and keep it until you return. For extended vacations, hire someone to maintain your lawn and landscaping.
If you live in a high flood probability area, keep electronics off the floor and make sure your sump pump is properly working before you leave. Unplug any unneeded electronics to save electricity and protect in the event of a lightning strike or power issues.
Outdoor Cooking
According to Hearth Barbecue Patio Association, 7 out of 10 adults in the U.S. have a grill or smoker. Today, more and more kitchen appliances are joining the patio scene. From pizza ovens and stoves to complete outdoor kitchens, backyards are becoming the place to gather for meals during outdoor season. As you're becoming a grill guru, it's important to take extra steps to stay safe.
Only use outdoor cooking appliances outside
Grills and other cooking appliances typically use liquid propane, charcoal, wood, or electricity to operate. Most are made and tested for outdoor use only. Before you bring any cooking appliance indoors or out, read the instruction manual first.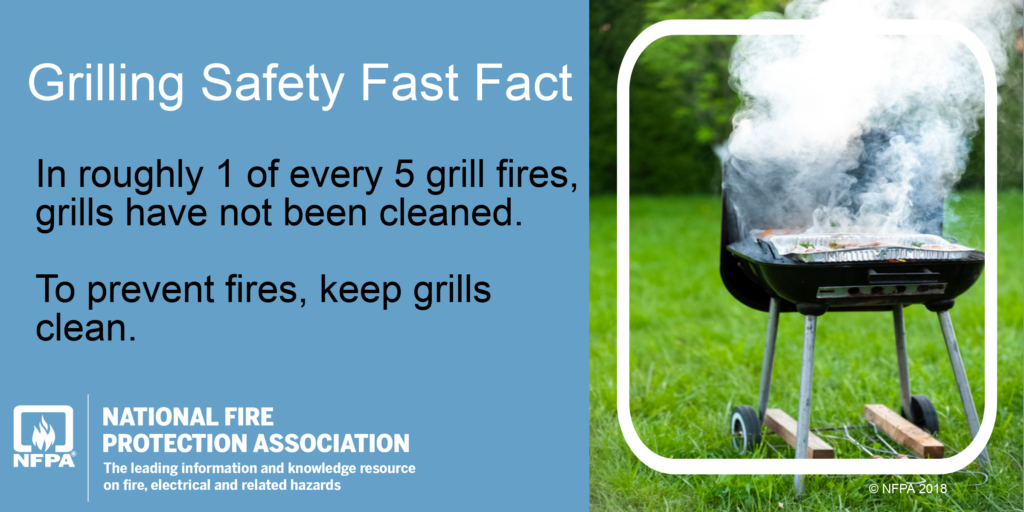 Taking care of your grill or smoker not only increases its lifespan, but it also keeps you safe. Frequently clean your grill by removing any grease or buildup.
While your grill is in use, stay attentive and never leave it unattended. When using any type of cooking appliance, have a fire extinguisher easily accessible. Don't forget to keep up inspecting and servicing your fire extinguisher too.
When you're finished with your grill or other cooking appliance, make sure to follow-up with proper care. This means turning off your appliances or gas source, letting the coals cool, and properly disposing of any waste afterwards.
Bonfires
Outdoor bonfires and delicious s'mores are the perfect end to a nice evening. Whether you're out camping, enjoying a local restaurant or hotel patio, or at home, be mindful of these fire safety tips for you and guests.
Safely distance your fire pit
Keep your fire pit safely away from buildings, trees, or other combustible structures. Consult your manual for minimum clearances to combustibles. When in doubt, farther is better.
For wood-burning bonfires, stay close to the fire until it is completely out. If you're using a propane or natural gas fire pit, ensure it is completely off and cooled down before covering it.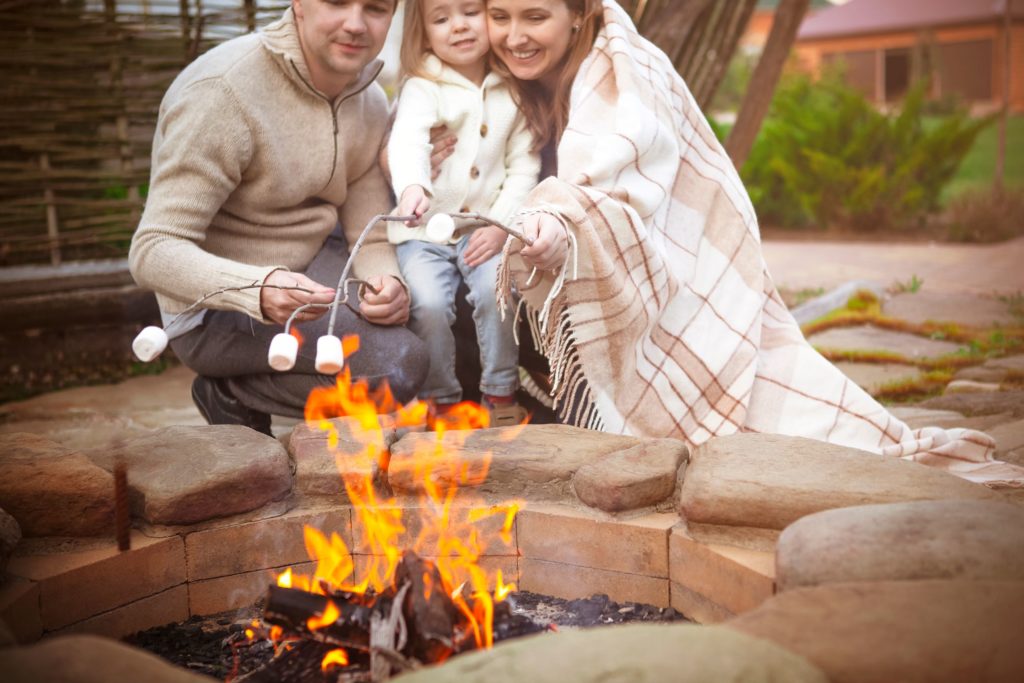 Fire pits are a perfect gathering spot for family and friends. It's easy to get comfortable around the fire but continue to keep an eye on any children and pets. The mesmerizing flames are tempting for little hands and paws. Don't forget about waggin' tails too!
Fireworks
Especially around the holidays, fireworks are the ultimate wow factor. But did you know that, according to the National Fire Protection Association, more than 19,500 reported fires are started by fireworks annually? Check out these ideas to keep everyone safe.
Supervise children around fireworks
Adults should be the only ones lighting off any fireworks. As kids watch from a distance, hold their hands to ensure they stay safely away.
Check your area's rules and regulations
States and even cities have their own rules for fireworks. Before purchasing fireworks, make sure to check out any local regulations.
Properly dispose of fireworks after use
It is not considered safe to place your used fireworks in a trashcan or recycling bin. It is recommended to completely submerge fireworks in a bucket of water after use. When finished with the soaking process, please consult your local officials on exact locations for disposing fireworks. Each city may have different recommendations or locations for disposal.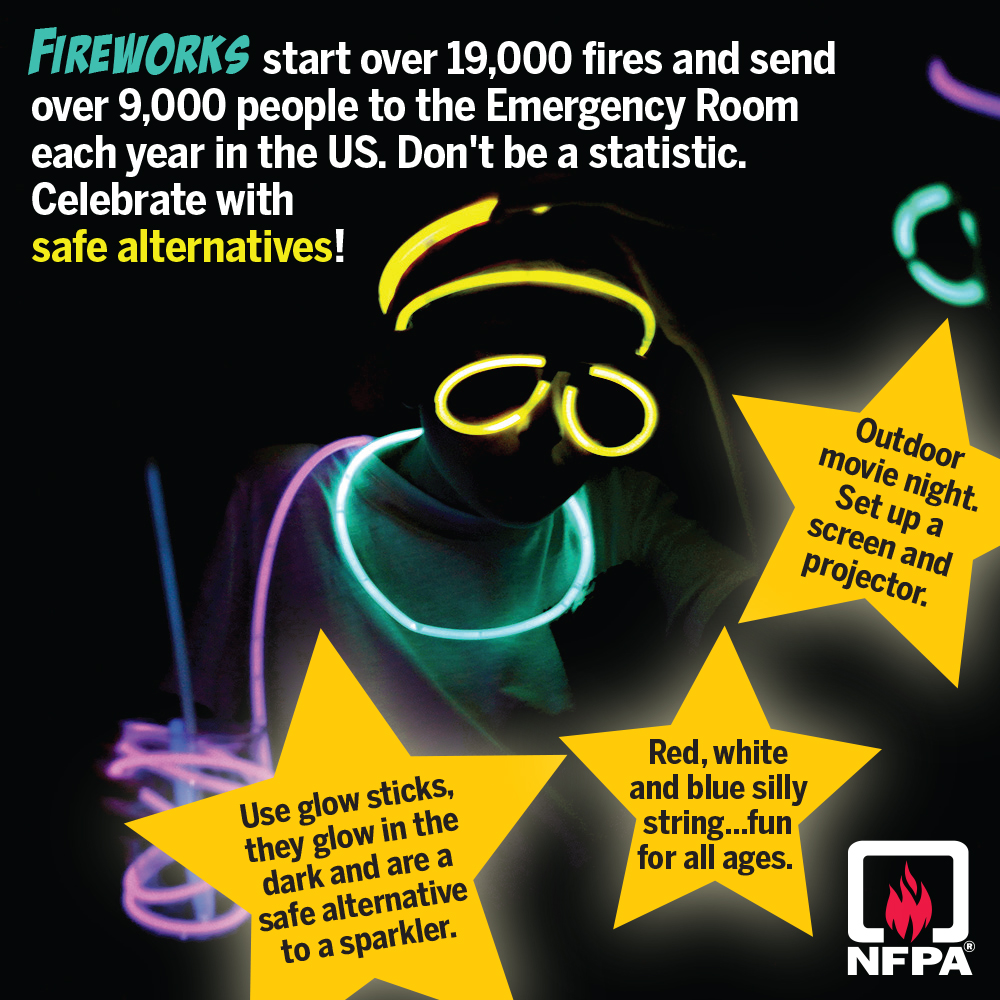 If you're wanting to add something extra fun or special to your event, consider alternatives to fireworks in order to avoid risks. Glow sticks offer similar brightness and fun in the dark. Host a foam party for unique family fun.
Looking for more ways to protect your assets? Check out our wide array of fire safety and security products and solutions.
Source: