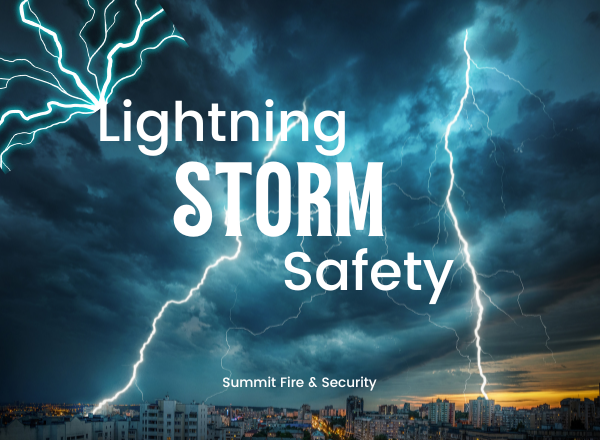 Lightning storms typically go hand-in-hand with summertime. While the magic of a storm can be appreciated from a distance, it can also pose a significant risk to businesses including devastating fires, extensive damage, disruption of operations, and even endangering the lives of employees and customers. Preparing ahead of time and prioritizing precautionary measures can mitigate these risks.
In this article, we will explore essential precautions that businesses can take to prevent fires associated with storms, with a specific focus on protecting fire alarm systems from the damaging effects of lightning strikes.
Install Lightning Protection Systems:
To safeguard your business from lightning strikes, consider installing lightning protection systems. These systems typically include lightning rods, conductors, and grounding systems. Lightning rods intercept lightning strikes and safely conduct the electrical current to the ground, minimizing the risk of damage to the building's infrastructure and critical systems.
Conduct Regular Inspections and Maintenance:
Regular inspections and maintenance of fire alarm systems are crucial to ensure their proper functioning, especially during lightning storms. Summit Fire & Security is relied upon by many local businesses, schools, hospitals, and more to conduct routine inspections, testing, and maintenance of fire alarm systems. This includes checking for any signs of wear and tear, loose connections, or damaged components that could compromise the system's effectiveness.
Implement Surge Protection Devices:
Lightning strikes can produce powerful surges of electrical energy that can damage sensitive electronic equipment, including fire alarm systems. Install surge protection devices (SPDs) at key points in your electrical system to divert excessive voltage caused by lightning strike. These devices will help safeguard your fire alarm system and other critical equipment from potential damage.
Some places that we would recommend surge protection would be post indicator valves that are far away from your main building, outbuildings, any physical separation between two buildings from the main fire alarm panel, and any fire pump rooms that are physically separated from the main building. Typically any building that has underground or above ground wiring connecting it to the main facility can be susceptible to surges and can damage your main fire panel. By adding surge protection between these outbuildings and devices, you can minimize the damage to your system considerably and save costly emergency repairs.
Ensure Proper Grounding:
Proper grounding is essential for the effective operation of fire alarm systems and protection against lightning-induced electrical surges. When you work with Summit Fire & Security, we will verify that your fire alarm system is adequately grounded according to the manufacturer's specifications and relevant electrical codes. Adequate grounding helps dissipate electrical energy and prevents it from damaging the system.
Backup Power Supply:
During lightning storms, power outages are common. To ensure the continuous operation of your fire alarm system, install a reliable backup power supply, such as uninterruptible power supply (UPS) or backup generators. These systems will provide temporary power to keep the fire alarm system operational, enabling it to function even during electrical disruptions caused by lightning strikes.
Educate and Train Staff:
Properly trained employees can play a vital role in preventing fire incidents during lightning storms. Educate your staff about the risks associated with lightning strikes and the importance of following safety protocols. Provide training on how to respond promptly to fire alarm activations and how to safely evacuate the premises in case of an emergency.
Protecting your business from the risks associated with lightning storms requires proactive measures. By implementing the precautions outlined above, including the specific steps to protect fire alarm systems, you can significantly reduce the risk of fire incidents during these potentially dangerous weather events.
When you partner with a trusted fire protection company like Summit Fire & Security, they will ensure your fire protection systems are well-maintained and prepared help to safeguard your business, property, and the safety of everyone within your premises. Contact your local experts to help protect your business.